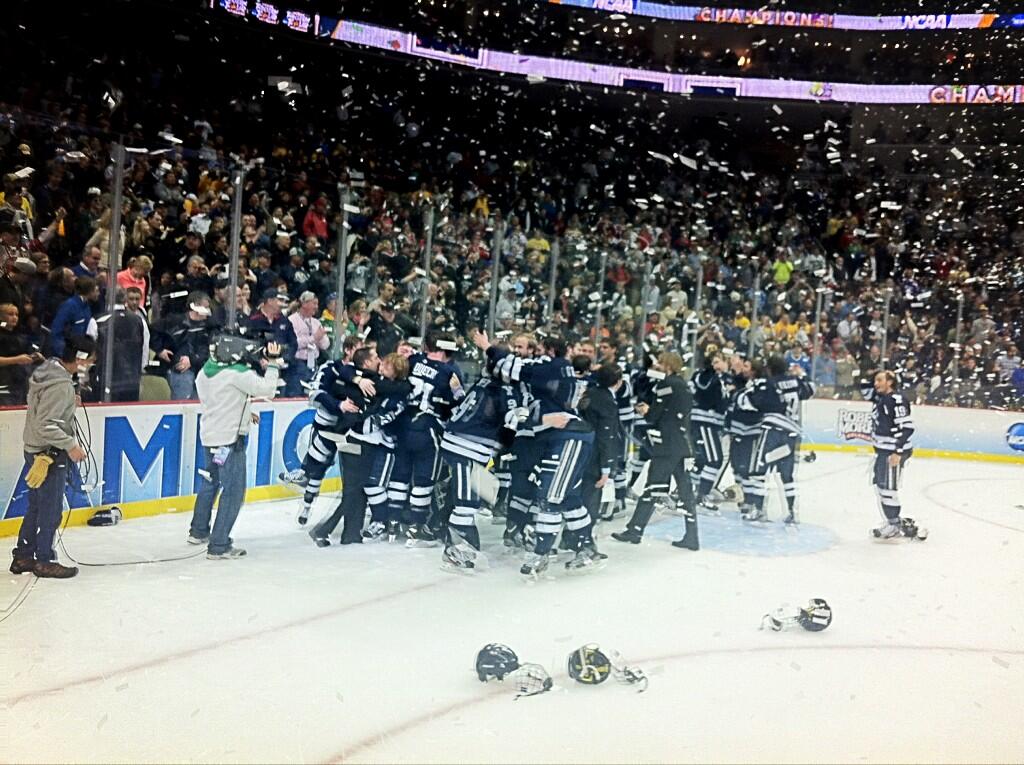 NCAA Hockey at its finest baby. Only 16 remain of 59 championship aspiring hockey teams who hit the ice this past Fall. I like the hockey setup because unlike basketball the first round is full of absolute tilts. I'd say the hottest region to watch is the Northeast (Manchester, NH) where Jack Eichel and BU have to get through the nation's top defense, Yale. Yale probably won't be able to score more than a goal or two but Alex Lyon in net is a big time game changer, and who knows maybe he can steal one. Bulldogs were lucky to back into the field just like they did in 2013, and that year they shocked everyone and won the National Championship. After that game there's a sweet cross state rivalry game between Minnesota and UM-Duluth. What a region.
Quinnipiac has to play North Dakota IN North Dakota, so it's probably RIP to the Bobcats season. Not that I don't still think they'll pull it out on the strength of two 3rd period goals from Matt Peca, but we'll see. Interesting that St. Cloud made the field with a late season push, hard to pick their game against Michigan Tech who has enjoyed a surprisingly good season.
Look for Harvard to upset UNO and play Minnesota State in the South Bend final. Jimmy Vesey is filthy and Blackwell is coming on strong late in the season. I like the Crimson coming out of the Midwest.
Everyone knows I hate BC but that doesn't mean I don't respect what they do every year. Miami will handle Providence in the first round but they should be afraid to draw the Eagles if they manage to overcome Denver. Hanifin is so saucy for BC right now.
Brutal sites for the regionals this year (Fargo, Manchester, South Bend?? only good one is Provi) but Boston as a Frozen Four host is perfect. It just feels right, Boston is the capital of college hockey and this will be the best atmosphere in years. I'm going with New England teams cause it would be fun:
Frozen Four:
Yale 1 vs. QU 2
BC 5 vs. Harvard 4
Championship:
QU 4 BC 3
Unbiased^